Roll over image to zoom in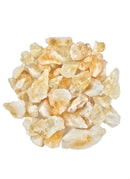 Description
Citrine Crystal Rough Specimens. These are broken pieces of citrine crystals offered in 2 pound, 11 pound and 33 pound lots.
This material is naturally occurring and has been heat treated. 
Wholesale Citrine Rough Specimens may bring a sense of luxury and abundance to your projects. These specimens' raw, uncut nature gives your works of art a distinctive, genuine charm. Citrine is an excellent addition to jewelry, accessories, and ornamental objects since its energy is said to encourage creativity, confidence, and success. Whether you're a jewelry maker or a crystal aficionado, Wholesale Citrine Rough Specimens offer a flexible and energizing choice.

A stunning variety of citrine crystals are available in their raw and natural state in our assortment of Wholesale Citrine Rough Specimens. Citrine, also referred to as the "Merchant's Stone," is thought to draw good fortune, wealth, and abundance. Citrine's warm golden glow not only has a pleasing aesthetic quality, but it also exudes a happy, uplifted energy that can improve your works of art and the environment in which you work.

Payment & Security
Your payment information is processed securely. We do not store credit card details nor have access to your credit card information.