Roll over image to zoom in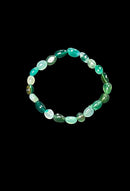 Description
Chrysoprase Nugget Bracelets.  These are elastic stretch crystal gemstone bracelets.
Immerse yourself in the colorful tranquility of wholesale Chrysoprase bracelets, where the refined jewelry design harmonies with the luscious green hues of nature's gem. Genuine Chrysoprase gemstones are set in each bracelet from our exclusive collection, which is made by hand. These bracelets offer an alluring method to connect with the calming energy of Chrysoprase and are ideal for jewelry businesses, gift shops, and people looking for emotional healing and inner serenity.

Quality is extremely important to us, thus our wholesale Chrysoprase bracelets are expertly made with real gemstones. With its deep green hue, chrysoprase is regarded as a stone symbolizing optimism and hope. It is related to facilitating inner peace, attracting abundance, and healing the emotions. As you connect with each bracelet's reviving vibrations and the sense of equilibrium it promotes, embrace the alluring beauty that resides therein.

Wholesale Chrysoprase bracelets will enhance your jewelry collection. Wearers are inspired by these alluring designs, which encourage them to embrace serenity and optimism. Whether used as thoughtful gifts or for personal adornment, our handcrafted collection will exude calm and optimism. Shop right away and enjoy Chrysoprase's colorful attractiveness, adding a touch of nature's green gem to your jewelry collection.

Payment & Security
Your payment information is processed securely. We do not store credit card details nor have access to your credit card information.