Roll over image to zoom in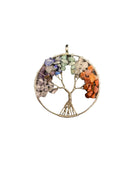 Description
Chakra Tree of Life Pendant Approx 2 inch Diameter for sale wholesale in bulk. These are silver plated pendants.
 We are pleased to present our beautiful line of Wholesale Chakra Tree of Life Pendants, which combines artistic elegance and spiritual symbolism in a beautiful way. These pendants provide your consumers a profound link between the mind, body, and spirit by serving as both gorgeous accessories and potent tools for balancing and aligning the body's energy centers.

Chakra Tree of Life Pendants are a sought-after addition to your wholesale inventory because they provide a distinctive fusion of spirituality and aesthetics. These intricately made pendants function as both fashionable accessories and instruments for personal development. By providing your clients with these pendants, you provide them a chic reminder to pay attention to their spiritual wellbeing and adopt the holistic concepts of chakra healing.

Payment & Security
Your payment information is processed securely. We do not store credit card details nor have access to your credit card information.