Roll over image to zoom in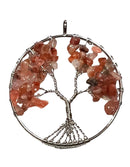 Description
Carnelian Tree of Life Pendant Approx 2 Inch Diameter for sale wholesale in bulk. These are silver plated pendants.
With our wholesale Carnelian Tree of Life Pendants, a vivid addition to your crystal jewelry collection, embrace life and creativity. Carnelian, a precious stone prized for its capacity to inspire passion, drive, and creative expression, has warm, blazing tones. As a dependable provider, we provide premium Carnelian Tree of Life Pendants that highlight the natural beauty and transforming qualities of this crystal. As a result, crystal shops, holistic practitioners, and jewelry lovers prize them as a premium option.

Our wholesale Carnelian Tree of Life Pendants are expertly designed to offer a wearable source of life and artistic inspiration. At our shop, quality is of the utmost importance. Genuine carnelian gemstones are expertly woven into the mystical Tree of Life design on each pendant. The Tree of Life is revered throughout cultures as a symbol of connection, growth, and the grace of life's cycles. Carnelian is thought to increase enthusiasm, confidence, and the creative spark. As you connect with the invigorating energy and sense of empowerment each necklace provides to your life, embrace its transformative qualities.

With our wholesale Carnelian Tree of Life Pendants, you may enhance your collection of crystal jewelry. Inspiring wearers to tap into the wisdom of the Tree of Life and the passionate attributes of Carnelian, these magnificent accessories serve as a source of inspiration. Our carefully chosen selection of pendants will envelop you in a creative aura and crystal magic, whether they are sold as retail items, are a part of crystal healing packages, or are worn for their symbolic meaning. Shop right away to experience the fascination of Carnelian Tree of Life Pendants and embrace the creativity and vitality that your spiritual journey will bring.

Payment & Security
Your payment information is processed securely. We do not store credit card details nor have access to your credit card information.