Roll over image to zoom in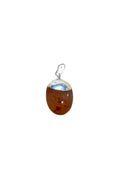 Description
Check out these Carnelian Agate Tumble Polished Silver Plated Pendants. They are silver plated pendants. Easy sell!
Our wholesale Carnelian Agate Tumbled Silver Plated Pendants are ideal for crystal enthusiasts, jewelry shops, and anybody looking to harness the power of this vivacious gemstone. They help you embrace the burning energy of vitality. With its deep orange and red coloring, carnelian agate is a strong crystal that is recognized for inspiring inspiration and creativity while fostering courage and inner strength. As a dependable provider, we provide premium Carnelian Agate Tumbled Pendants in silver-plated settings that combine beauty with enlightenment.

Our wholesale Carnelian Agate Tumbled Silver Plated Pendants are a stunning addition to any jewelry collection since at our shop, quality is of the utmost importance. Each pendant has a real Carnelian Agate gemstone that has been tumbled and is set in a fashionable silver-plated bail so it may be worn as a pendant or added to other items. Carnelian agate is thought to improve vitality, increase self-assurance, and inspire people to accomplish their goals. As you connect with the lively energy and sense of empowerment that Carnelian Agate provides to your life, embrace the alluring beauty of each pendant.

Our wholesale Carnelian Agate Tumbled Silver Plated Pendants will elevate your jewelry collection. These beautiful accessories inspire people to embrace the dynamic properties of carnelian agate and act as a source of motivation. Our hand-selected collection of pendants will infuse an atmosphere of life and crystal magic whether provided as a sentimental gift, a retail item, or the center piece in your crystal jewelry line. Shop today to embrace the fire spirit of this gemstone and boost the energy of your fashion offers. Discover the fascination of Carnelian Agate Tumbled Silver Plated Pendants.

Payment & Security
Your payment information is processed securely. We do not store credit card details nor have access to your credit card information.