Roll over image to zoom in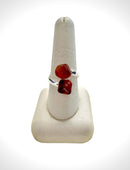 Description
Carnelian Agate Silver Plated Adjustable Rings for sale wholesale in bulk. These are silver plated rings.
By incorporating our wholesale Carnelian Silver Plated Adjustable Rings in your assortment, you provide customers the chance to wear carnelian's energizing vitality all day long. Carnelian is thought to increase confidence, motivation, and a sense of empowerment. These rings can represent personal power and style for your customers as an accessory that artfully combines style and good vibes.

Since carnelian is frequently connected with ardor and tenacity, our rings serve as both a stylish adornment and a declaration of self-assurance. These rings accommodate a range of tastes, whether your customers want a statement piece for their ensemble or a subtle energy boost. You give a stylish by selling our Carnelian Silver Plated Adjustable Rings in bulk.
Payment & Security
Your payment information is processed securely. We do not store credit card details nor have access to your credit card information.