Roll over image to zoom in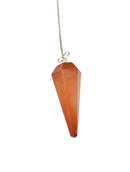 Description
Carnelian Agate Pendulum Approx 1.25 Inch Diameter.  These are silver plated pendants.
With our wholesale Carnelian Pendulums, which are ideal for metaphysical shops, crystal aficionados, and anyone looking for vigor and motivation, you may embrace the revitalizing force of a crystal divination tool. Carnelian is a powerful gemstone whose blazing energy and vivid orange tint are renowned to inspire courage, passion, and creativity. As a dependable provider, we offer premium Carnelian Pendulums to guarantee authenticity and real crystal energy.

Our wholesale Carnelian Pendulums are a compelling addition to any metaphysical collection since at our shop, quality is essential. A common instrument for dowsing, chakra healing, and gaining access to inner wisdom is the carnelian pendulum. They are thought to increase motivation, confidence, and the movement of life force throughout the body. As you connect with the energizing vibrations and sensation of empowerment each pendulum brings to your divination activities, embrace its alluring beauty.

Take advantage of our wholesale Carnelian Pendulums to upgrade your metaphysical collection. These beautiful divination instruments inspire people to embrace the healing potential of carnelian and act as a source of strength. Our carefully chosen selection will elicit a sense of vigor and good vibes whether it is utilized for personal development, as a thoughtful present, or as a well-liked retail item. Get your Carnelian Pendulums today and add a little empowerment and divination to your spiritual journey.

Payment & Security
Your payment information is processed securely. We do not store credit card details nor have access to your credit card information.