Roll over image to zoom in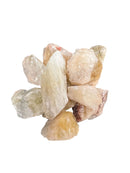 Description
Citrine Crystal Rough Specimens. These are various sized pieces of citrine offered in 2 pound, 11 pound and 33 pound lots.
This material is naturally occurring and has been heat treated. 
Get lost in the luminous world of Brazilian Citrine raw crystal wholesale specimens, where plenty and positivity radiate from every angle. We painstakingly selected each rough specimen for our special collection from Brazil, the country with the richest Citrine reserves. These specimens provide an engaging opportunity to engage with the uplifting energy of Citrine and are ideal for crystal aficionados, retailers, and people looking for wealth.

Our Brazilian Citrine crystal rough specimens are chosen for their genuineness and inherent brilliance since at our shop, quality is of the first importance. Brazilian citrine, also known as the "Merchant's Stone," is prized for its vivacious golden tones and potent manifestation abilities. As you tune into each ragged piece's sunny energies and the sensation of plenty it exudes, embrace the alluring beauty it contains.

Wholesale Brazilian Citrine crystal rough specimens will enhance your crystal collection. These alluring stones inspire people, giving them the power to enact prosperity and optimism in their life. Our carefully chosen selection will add a sense of prosperity and fortune to any location, whether you choose to decorate it or give it to your customers. Shop right away and take advantage of Brazilian Citrine's brilliant vitality, which will add some coziness and optimism to your crystal collection.

Payment & Security
Your payment information is processed securely. We do not store credit card details nor have access to your credit card information.