Roll over image to zoom in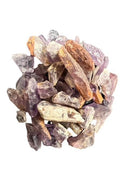 Description
Brazilian Amethyst Rough Specimens for sale wholesale in bulk from Brazil! These are great hand specimens.  Some will have some iron staining Order 2 pounds, 11 pounds or a 33 pound lot.
Enjoy the regal beauty of bulk Brazilian amethyst crystal rough specimens, which hold the promise of spiritual advancement. Brazilian reserves of rich amethyst are a treasure trove, and our exclusive collection includes hand-selected rough specimens from those deposits. These specimens provide an alluring method to engage with the purifying energy of amethyst and are ideal for crystal aficionados, retailers, and individuals looking for inner serenity.

Our Brazilian Amethyst crystal raw specimens for wholesale are chosen for their authenticity and rich purple hues since at our shop, quality is of the first importance. The "Stone of Spirituality," Brazilian amethyst, is renowned for fostering serenity and improving spiritual awareness. As you connect with each rusty piece's relaxing vibrations and the sense of balance it imparts, embrace the alluring beauty that resides there.

Wholesale Brazilian amethyst crystal rough specimens will enhance your crystal collection. These alluring stones act as a source of motivation, encouraging people to develop a stronger bond with their spiritual self. Our carefully chosen selection will add a sense of calm and inner knowledge to any room, whether you choose to decorate it or give it to your clients. Shop right away and enjoy Brazilian amethyst's alluring aura, which will give your crystal selection a touch of spiritual boost.

Payment & Security
Your payment information is processed securely. We do not store credit card details nor have access to your credit card information.