Roll over image to zoom in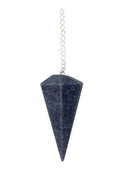 Description
Blue Quartz Pendulum Approx 1.25 Inch Diameter for sale wholesale in bulk. These are silver plated pendants.
Our Wholesale Blue Quartz Pendulums highlight the alluring beauty of this calm gemstone, which has a variety of alluring blue hues. Each pendulum is painstakingly made for the best balance and sensitivity, enabling precise readings and life-changing spiritual encounters. By including Blue Quartz Pendulums in your wholesale selection, you give people a method to take advantage of this wonderful stone's calming effects.

The relaxing energy of Blue Quartz Pendulums will enhance your wholesale selection. By embracing the calming qualities of this alluring gemstone, you may assist your customers in finding inner peace and clarity. By showcasing the alluring energy of Blue Quartz Pendulums to your audience as a wholesale supplier, you may improve their spiritual journeys. Discover our wholesale options right away and educate your clients about the significant advantages of this gorgeous gemstone pendulum.

Payment & Security
Your payment information is processed securely. We do not store credit card details nor have access to your credit card information.