Roll over image to zoom in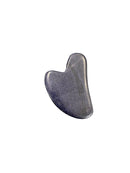 Description
These are Blue Goldstone Guasha or Gua Sha Stones that have been shaped, smoothed and polished. They make great hand specimens and massage stones. These are approximately 2 x 3 inches in size.
 With our wholesale Blue Goldstone Gua Sha, perfect for spa operators, crystal enthusiasts, and beauty and wellness merchants, embrace the ethereal beauty of a starry night. A captivating gemstone with a deep blue hue and brilliant brilliance, Blue Goldstone is renowned for its affinity with the stars and for inspiring wonder and creativity. We are a reputable seller of premium Blue Goldstone Gua Sha instruments that use the crystal's celestial energy for facial massage and skincare procedures.

Quality is important to us, thus our wholesale Blue Goldstone Gua Sha tools are created with care to offer a wonderful and successful beauty experience. Each Gua Sha is expertly created to contour the face and neck, increasing skin brightness, promoting lymphatic drainage, and decreasing puffiness. A link to the cosmos, fearlessness, and self-expression are all attributed to blue goldstone. As you connect with the alluring energies and sense of cosmic inspiration each Gua Sha provides to your self-care routine, embrace its alluring beauty.

Improve your beauty and wellness company with our Blue Goldstone Gua Sha in bulk. These magical tools inspire people to embrace the cosmic beauty and energy of this gemstone by giving them the tools they need. Our hand-selected collection of Gua Sha tools will impart an air of wonder and crystal magic, whether they are sold as a retail item, used in facial treatments, or are a part of your spa's crystal offerings. Shop today to experience the appeal of Blue Goldstone Gua Sha, which uses the ethereal beauty of the starry night to give skin a fresh, luminous appearance.

Payment & Security
Your payment information is processed securely. We do not store credit card details nor have access to your credit card information.