Roll over image to zoom in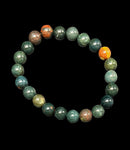 Description
Bloodstone 8mm Round Bracelets.  These are elastic crystal gemstone stretch bracelets.
With our wholesale Bloodstone Round Bracelets, you can embrace the power of healing gemstones. These bracelets are ideal for jewelry businesses, crystal collectors, and wellness-oriented stores. Bloodstone is a potent gemstone renowned for its reviving and anchoring qualities. It has a dramatic crimson fleck pattern and a deep green tint. As a dependable supplier, we offer premium Bloodstone Round Bracelets to guarantee authenticity and real gemstone power.

Our wholesale Bloodstone Round Bracelets are a compelling addition to any jewelry collection since quality is important to us. Bloodstone is thought to improve courage, inner strength, and physical energy. As you tune into each bracelet's strengthening energies and the sensation of grounding it gives the wearer, embrace the allure of its alluring beauty.

With our wholesale Bloodstone Round Bracelets, you may enhance your jewelry collection. These potent bracelets inspire people to embrace the healing energy of Bloodstone and act as a source of strength. Our hand-selected collection will emanate a sense of strength and fortitude whether worn for its invigorating qualities, as a considerate present, or as a well-liked retail item. Shop now and experience Bloodstone's attraction, which will add a touch of life and uplifting energy to your jewelry collection.

Payment & Security
Your payment information is processed securely. We do not store credit card details nor have access to your credit card information.