Roll over image to zoom in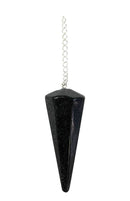 Description
Black Onyx Pendulum Approx 1.25 Inch Diameter for sale wholesale in bulk. These are silver plated pendants.
 Our Wholesale Black Onyx Pendulums display this black gemstone's remarkable elegance while emphasizing its rich colors and supple textures. Every pendulum has been carefully crafted for the best balance and accuracy, delivering precise readings and enhanced spiritual experiences. Offering Black Onyx Pendulums in your wholesale selections gives spiritual seekers a way to access the grounding and safeguarding powers of this potent stone.

Boost your wholesale stock with Black Onyx Pendulums' inspirational spirit. Encourage your customers to embrace their inner strength and the gemstone's defensive properties. You have the chance, as a wholesaler, to help your customers' spiritual journeys by introducing them to the alluring power of Black Onyx Pendulums. Introduce your customers to the significant advantages of this spectacular gemstone pendulum by learning more about our wholesale range today.

Payment & Security
Your payment information is processed securely. We do not store credit card details nor have access to your credit card information.