Roll over image to zoom in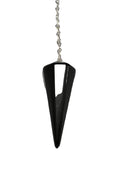 Description
Black Obsidian Pendulum Approx 1.25 Inch in length.  These are silver plated pendants.
Our wholesale Black Obsidian Pendulums, ideal for metaphysical shops, crystal aficionados, and those seeking grounding and shielding, let you embrace the protective power of a crystal divination tool. Black obsidian is a powerful gemstone renowned for its capacity to banish negative energy and offer a sense of grounding. It has a glassy texture and a deep black color. We offer premium Black Obsidian Pendulums as a dependable supplier to guarantee authenticity and real crystal energy.

Our wholesale Black Obsidian Pendulums are a compelling addition to any metaphysical collection since at our shop, quality is of the utmost importance. Pendulums made of black obsidian are often used in dowsing, chakra cleansing, and protection rituals. They are thought to protect against psychic assaults, encourage emotional recovery, and encourage introspection. As you connect with each pendulum's strong vibrations and the sense of security it offers to your divination techniques, embrace their alluring beauty.

With our wholesale Black Obsidian Pendulums, you can upgrade your metaphysical collection. These beautiful divination instruments inspire people to embrace the healing potential of Black Obsidian and act as a source of strength. Our carefully chosen selection will emit a protective and uplifting aura whether it is utilized for self-improvement, as a kind gift, or as a well-liked retail item. The fascination of Black Obsidian Pendulums, which add a sense of anchoring and divination to your spiritual journey, may be found when you shop right now.

Payment & Security
Your payment information is processed securely. We do not store credit card details nor have access to your credit card information.