Roll over image to zoom in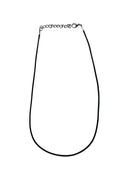 Description
Black Cord Adjustable Necklace 17.5 inch to 19.5 inch.  These are great for pendants.
Discover the world of wholesale crystal cord necklaces, where fashionable versatility meets the healing power of crystals. We have a wide variety of cord necklaces in our exclusive assortment that are ideal for spiritual seekers, jewelry dealers, and crystal fans. These necklaces, which are made of high-quality materials, provide the perfect way to display and wear crystal pendants and enable users to connect with the special energies and metaphysical aspects of their preferred gemstones.

Our wholesale cord necklaces for crystals are chosen with care to ensure durability and fashion since at our shop, quality is paramount. Each necklace is the ideal accessory for crystal pendants, letting the inherently lovely and therapeutic qualities of the stones show through. Our range accommodates to varied tastes and preferences with adjustable cords, varying lengths, and styles, making them the perfect accent to any line of crystal jewelry.

Wholesale cord necklaces will enhance your assortment of crystal jewelry. These adaptable accessories not only look good, but they also act as a channel for crystal healing. Our curated selection will accentuate the spirituality and elegance of your crystal pendants, whether you display them or sell them to consumers. Shop right away and enjoy the fashionable adaptability of wholesale cord necklaces for crystals, which provide wearers a lovely opportunity to adorn themselves with the energies of the jewels they treasure.

Payment & Security
Your payment information is processed securely. We do not store credit card details nor have access to your credit card information.