Roll over image to zoom in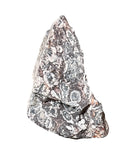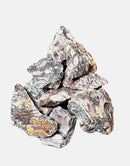 Description
Birds Eye Rhyolite Rough Specimens for sale wholesale in bulk from Mexico! These are great hand specimens. The size range is Small, approximately 1.2" - 1.7" inches or Palm size 1/2 fist to fist size. Order 2 pound lot, 11 pounds or a 33 pound lot.
 With our wholesale Birds Eye Rhyolite Rough Specimens, a special addition to your crystal collection, embrace the mesmerizing beauty of nature's artwork. Birds Eye Rhyolite, commonly referred to as "Rhyolite with Orbicular Jasper," is a spectacular gemstone distinguished by its captivating patterns of circular formations resembling bird's eyes. We are a dependable source of high-quality Birds Eye Rhyolite Rough Specimens, which highlight the natural beauty and healing powers of this stone and are in high demand among lapidary enthusiasts, collectors, and crystal retailers.

Quality is our top concern at our shop, and our wholesale Birds Eye Rhyolite Rough Specimens are chosen with care to offer a genuine and educational experience. Each specimen showcases the exquisite orbicular patterns that produce a work of art by showing the untainted and natural beauty of Birds Eye Rhyolite. Birds Eye Rhyolite is thought to foster a sense of stability, offer support through times of transition, and foster creativity. In order to connect with the energy of the Earth and experience the harmony it creates in your surroundings, embrace the nourishing qualities of each rough piece.

Take advantage of our bulk Birds Eye Rhyolite Rough Specimens to upgrade your crystal collection. These amazing stones provide people with motivation, enabling them to tap into the therapeutic and inventive powers of Birds Eye Rhyolite. Our hand-selected collection of rough specimens will evoke awe and crystal enchantment whether it is sold as a retail item, utilized in lapidary applications, or displayed as a natural wonder. Shop right away to experience the allure of Birds Eye Rhyolite Rough Specimens and to embrace the beauty of the Earth's canvas and the artistic patterns it gives.

Payment & Security
Your payment information is processed securely. We do not store credit card details nor have access to your credit card information.