Roll over image to zoom in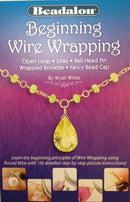 Description
Learn the beginning principles of Wire Wrapping using Round Wire with 116 detailed step-by-step picture instructions!
With our wholesale wire wrapping handbook, a thorough manual that enables jewelry makers and lovers to master the challenging skill of wire wrapping, you can unlock the secret to creating beautiful jewelry creations. This unusual booklet provides detailed instructions, advice, and creative inspiration for making original wire-wrapped jewelry pieces. This booklet provides an engaging approach to improve your wire wrapping abilities and release your creativity, making it ideal for craft shops, jewelry supply retailers, and aspiring craftsmen.

Our wholesale wire wrapping guide is carefully made to provide clear and concise directions, making it perfect for both beginning and experienced artists. At our store, quality is of the utmost importance. Learn several wire wrapping methods, from simple loops to complex weaving, and how to use them with crystals, gemstones, and other materials to create one-of-a-kind jewelry. Explore the limitless opportunities found on every page as you enter the fascinating world of wire wrapping.

With our wholesale wire wrapping booklet, you can enhance your jewelry crafting collection. This priceless resource acts as a source of creativity, encouraging people to refine their talents and make beautiful handcrafted jewelry. Our booklet will evoke a sense of imagination and artistic expression, whether it is used for individual projects, workshops, or as a nice present for aspiring artists. Shop right away to learn the art of wire wrapping, which will add a dash of originality and beauty to your jewelry-making supplies.

Payment & Security
Your payment information is processed securely. We do not store credit card details nor have access to your credit card information.