Roll over image to zoom in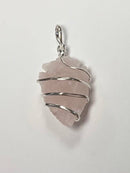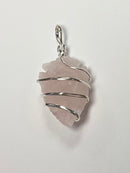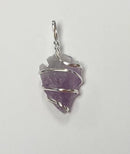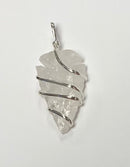 Description
Check out these arrowhead Amethyst, Rose Quartz and Clear Quartz Gemstone Pendants.  These arrowhead Silver Plated Wire Wrapped Pendants are offered wholesale in bulk.
The arrowhead emblem has deep historical and cultural meaning and is frequently linked to bravery, safety, and adventure. These characteristics are embodied in our Wholesale Arrowhead Silver Plated Wire Wrapped Pendants, which also present a novel interpretation of the classic style. Each pendant features a real arrowhead that has been painstakingly wire-wrapped in silver-plated wire, adding to its charm and authenticity. These pendants are appropriate for a range of events because to their glossy silver-plated appearance.

These pendants' wire-wrapped design lends them a hint of bohemian flair, making them ideal for people looking for jewelry that matches their free-spirited aesthetic. The pendant's silver-plated bail makes it simple to attach it to different chains and cords, giving wearers a variety of alternatives. Whether paired with other necklaces for a bohemian vibe or worn alone as a striking item.
Payment & Security
Your payment information is processed securely. We do not store credit card details nor have access to your credit card information.