Roll over image to zoom in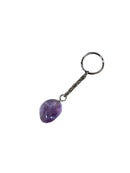 Description
Amethyst Tumbled Stone Key Chains offered Wholesale in Bulk. These are Amethyst Tumbled Stones made into key chains.  
Improve your health and beauty company with our wholesale Obsidian Gua Sha. These magical tools inspire people to embrace the protective qualities of volcanic glass and act as a source of strength. Our carefully chosen selection of Gua Sha tools will inject an atmosphere of grounding and crystal magic whether they are sold as a retail item, used in facial treatments, or included in your spa's crystal offerings. Shop today to experience the appeal of Obsidian Gua Sha and utilize its calming properties for a refreshed and even complexion.

Our wholesale Amethyst Tumble Polished Key Chains are expertly created to provide a special and significant accessory. Quality is of the utmost concern to us. Genuine tumbling Amethyst stones are hand-polished to perfection and securely fastened to strong metal key rings in each key chain. Amethyst is thought to reduce anxiety, encourage rest, and sharpen intuition. As you connect with the peaceful energies and sense of tranquility each key chain brings to your daily life, embrace its alluring beauty.

Improve the quality of your product line-up with our bulk tumble-polished amethyst key chains. These beautiful trinkets inspire people and enable them to carry the calming qualities of amethyst with them wherever they go. Our carefully curated selection of key chains will envelop you in a sense of peace and crystal enchantment, whether they are given as a thoughtful present, sold at retail, or serve as a significant addition to your crystal collection. The attraction of Amethyst Tumble Polished Key Chains can help your consumers embrace calm and happiness while keeping their essentials close. Order today and find out more about this fascination. (AMTPKEY)


Payment & Security
Your payment information is processed securely. We do not store credit card details nor have access to your credit card information.