Roll over image to zoom in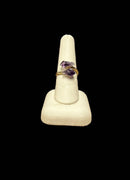 Description
Amethyst Point Silver Plated Adjustable Rings for sale wholesale in bulk. These are silver plated adjustable rings.
Amethyst is prized for its capacity to foster tranquility, equilibrium, and improved intuition. With the help of our Wholesale Amethyst Point Silver Plated Adjustable Rings, users can access the calming energies of this appealing stone, promoting inner calm and clarity. Each ring has a brilliant amethyst point that enhances the healing capabilities of the stone while reflecting the beauty of nature's masterpiece.

Offer your consumers a remarkable item that celebrates inner harmony and intuition by learning about the alluring beauty and spiritual meaning of Wholesale Amethyst Point Silver Plated Adjustable Rings. Utilize the tranquilizing qualities of amethyst to provide your customers a meaningful and fashionable accessory that speaks to their need for peace and spirituality. Purchase this alluring gemstone ring right away to add it to your wholesale collection and wow your clients with the alluring qualities of amethyst.

Payment & Security
Your payment information is processed securely. We do not store credit card details nor have access to your credit card information.