Roll over image to zoom in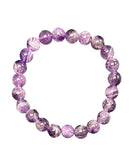 Description
Amethyst 8mm Round Bracelets.  These are elastic crystal gemstone stretch bracelets offer wholesale or in bulk.
With our wholesale Amethyst Round Bracelets, which are ideal for jewelry retailers, crystal enthusiasts, and gift shops, embrace the elegance of amethyst. Amethyst is a prized gemstone renowned for its calming and protecting qualities. Its alluring purple tones add to its allure. As a dependable supplier, we offer premium Amethyst Round Bracelets to guarantee authenticity and real gemstone power.

Our wholesale Amethyst Round Bracelets are a stunning addition to any jewelry collection since quality is important to us. Amethyst is thought to encourage emotional harmony, heighten spiritual awareness, and provide protection from harmful energies. Connect with the calming vibrations and sense of peace each bracelet provides to the wearer as you embrace their alluring beauty.

Take advantage of our wholesale Amethyst Round Bracelets to upgrade your jewelry collection. These beautiful bracelets inspire people to accept the healing potential of amethyst and act as a conduit for that inspiration. Our carefully chosen collection will exude an air of sophistication and spirituality whether worn for one's own well-being, as a kind present, or as a well-liked retail item. Amethyst adds a touch of beauty and uplifting energy to your jewelry collection. Shop today and explore its fascination.

Payment & Security
Your payment information is processed securely. We do not store credit card details nor have access to your credit card information.