Roll over image to zoom in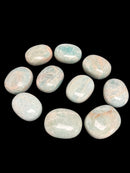 Description
Amazonite Palm Stones or pillow stones offered in Bulk or Wholesale.  Amazonite has been hand shaped and polished into 1.75 - 2.75 inch long and about .75-1.25 inch thick palm stones or pillow stones. Choose to buy one or a 10 pack.
Amazonite is renowned for its calming shades of green and blue, reminiscent of serene tropical waters. Each Amazonite Palm Stone showcases a unique blend of colors and patterns, making them not only a visual delight but also a conversation starter. These stones are perfect for adding a touch of nature-inspired elegance to any space.
The energy of Amazonite Palm Stones is thought to encourage balance, harmony, and communication. These stones are associated with the throat chakra, promoting open and honest self-expression. By offering these wholesale palm stones, you provide your customers with a tool that may help them align their energies, reduce stress, and foster healthy communication.
Payment & Security
Your payment information is processed securely. We do not store credit card details nor have access to your credit card information.