Roll over image to zoom in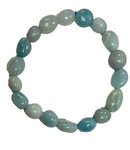 Description
Amazonite Nugget Bracelets.  These are elastic stretch crystal gemstone bracelets.
With our wholesale Amazonite Nugget Bracelet, a stunning piece of gemstone jewelry that displays the mesmerizing blue-green tones of Amazonite, embrace balance and harmony. Amazonite, also referred to as the "Stone of Harmony," is prized for its capacity to foster inner tranquility, improve communication, and reduce emotional stress. As a dependable vendor, we provide high-quality Amazonite Nugget Bracelets, giving merchants and distributors a compelling gemstone choice that will fascinate clients with its charm.

Our company places a high value on quality and authenticity, therefore our wholesale Amazonite Nugget Bracelets are made with the highest caliber stones and expertly carved to show off the stone's stunning blue-green hue and natural patterns. Each bracelet features genuine Amazonite nuggets, capturing the stone's unprocessed and natural charm. Beyond its aesthetic appeal, Amazonite is prized as a gemstone for those seeking equilibrium and serenity since it is thought to foster harmonious relationships, increase self-confidence, and lessen worry.

Payment & Security
Your payment information is processed securely. We do not store credit card details nor have access to your credit card information.