Roll over image to zoom in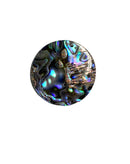 Description
These are Abalone Shells that have been polished and have a small drilled hole. They make great hand specimens and decoration pieces! These are approximately 38 to 40 mm in diameter. 
 Abalone Shell Rounds have medicinal and spiritual meaning in addition to being aesthetically pleasing. The relaxing energy and oceanic connection of abalone shell are well recognized. It is thought to improve intuition, foster serenity, and bring emotional equilibrium. Abalone shell lends beauty to your products and also imbues them with the calming, therapeutic energies of the ocean. These circles present an exceptional chance to connect with the spirit of the sea, whether they are employed as jewelry, meditation tools, or crafts.

Wholesale Abalone Shell Rounds with Holes offer a fusion of unpretentious natural elegance and artistic potential. These rounds are a useful addition to any craftsperson's toolbox because to their captivating hues and built-in mending abilities. 
Payment & Security
Your payment information is processed securely. We do not store credit card details nor have access to your credit card information.