Roll over image to zoom in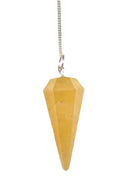 Description
Yellow Aventurine Pendulum Approx 1.25 Inch Diameter.  These are silver plated pendants.
 Our wholesale Yellow Aventurine Pendulums are perfect for metaphysical shops, crystal aficionados, and people looking for optimism and abundance. They embody the happy energy of a crystal divination tool. With its warm golden hue and glistening glitter, yellow aventurine is a potent gemstone that is said to draw luck and prosperity. We offer premium Yellow Aventurine Pendulums as a dependable supplier to guarantee authenticity and true crystal energy.

Our wholesale Yellow Aventurine Pendulums are a compelling addition to any metaphysical collection since quality is important to us. Pendulums made of yellow aventurine are well-liked instruments for dowsing, chakra balancing, and boosting one's vitality. They are said to increase happiness, creativity, and prospects for development and achievement. As you connect with each pendulum's boosting energies and the sense of optimism it imparts to your divination techniques, embrace their alluring beauty.

Payment & Security
Your payment information is processed securely. We do not store credit card details nor have access to your credit card information.