Roll over image to zoom in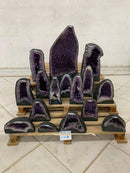 Description
Amethyst Cathedral lots offered wholesale or bulk from Brazil! Check out these amazing specimens. These lots are shown in the images. Free shipping!  Get a discount of $300 to $400 if you pick up at our warehouse! These are also called churches and amethyst geodes. 
Large geodes or hollow rock formations known as "amethyst cathedrals" are lined with amethyst crystals within the cavity. These geological marvels are widely prized for their aesthetic appeal. 
These magnificent geodes are featured in our wholesale warehouse. Each cathedral, created by Mother Earth herself, features beautiful purple tones, ranging from soft lilacs to deeper violets.
We ensure authenticity thanks to our direct sourcing from Brazil. Our cathedrals are the ideal additions to crystal collections and home furnishings.
Retailers can easily buy these breathtaking geological wonders thanks to our user-friendly online platform, which guarantees a seamless shopping experience with free shipping offered to the continental USA.
Payment & Security
Your payment information is processed securely. We do not store credit card details nor have access to your credit card information.